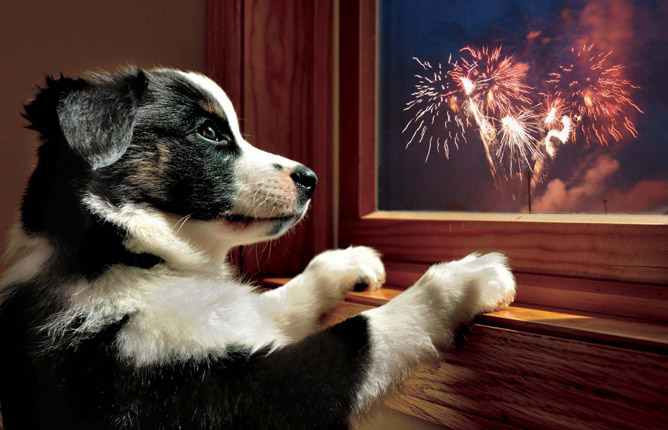 Fireworks
and Your Pet
New Years' Eve and Fourth of July are a wonderful time for family, friends, celebrations, and fun, but it is also the day more pets are lost than any other day of the year. The loud noises, bustling home environments, and many foreign objects that come with these events can cause problems for our pets at home. Luckily there are a few steps we can take to make sure everyone in the household has a safe and enjoyable New Years' Eve or Fourth of July!
Before the Holiday
July 3rd/ December 31st
There is a VERY HIGH chance that people will be setting off Fireworks the night before and the night after July 4th and New Years Eve.
Check and Update Identification for Your Pet
In case of emergency make sure your pet has proper identification. What that looks like is pictures, tags, and a microchip if possible. Pictures should show your pet's coloring, size, and any unique features that could help people identify if they should escape. Tags should be on your animal and have all up-to-date information such as address and phone numbers. Finally, a microchip is something that can be done quickly during a vet visit and can dramatically increase the chances of reuniting with your pet if they were to get lost.
Create or Update Pet Identification Flier
The purpose of this identification flier is to alert others that your pet is lost or missing. Along with providing photos and important details about your pet and how to get your pet home in case they find him or her.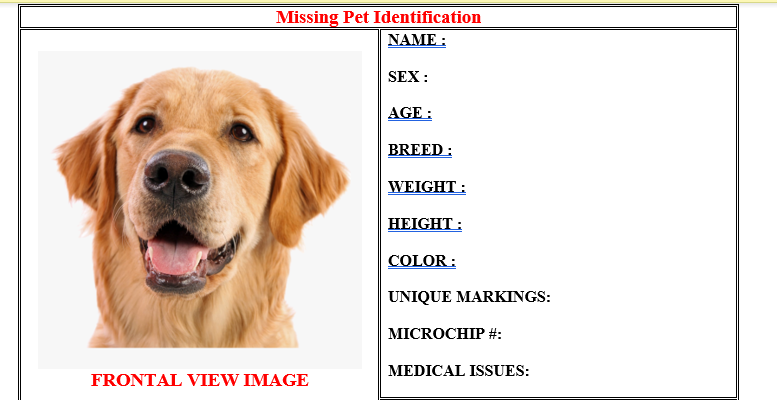 Prepare a Safe Place
Make sure your pet has a safe, secure, and quiet place to stay during your party/ barbeque/ etc. When pets are stressed and startled they may panic and try to escape. Make sure they are in a place (indoors) that limits the number of people coming through and the amount of noise. Preferable an interior room, like a master closet or bathroom. If your pet is crate trained and seeks comfort, you can move the crate to the interior room as well. If possible have calming pet tv/music on that your pet can listen to or watch, you can find examples on our Blog Post: Music for Pets. Additionally, there are also many calming treats and sprays on the market that can be super helpful to our furry friends.
During the Holiday
Food and Alcohol
Keeping holiday foods away from your pet is very important for their health. Many foods found on the Fourth of July are harmful to our furry companions and can cause upset tummies and much worse. In order to prevent this make sure all guests know that although tempting keep the food away from your Pet! Alcohol can be very dangerous for pets as well so make sure all alcoholic drinks are out of pets reach.
Glow Jewelry
Bright and colorful glow jewelry looks like a toy to our fuzzy friends. However, the ASPCA states that while not highly toxic, excessive drooling and gastrointestinal irritation could still result from ingestions, and intestinal blockage could occur from swallowing large pieces of the plastic containers."
Insect Repellents
Insect repellents are toxic to pets! Nobody wants insects at a party, however, it is important to keep insect sprays and repellents such as citronella candles and tiki torch oils out of pets' reach. The result of inhalation can cause severe respiratory illnesses such as pneumonia, and ingestion can harm your pet's nervous system.
Do An Early Dinner, Playtime/Walk and Bathroom
As it is hard to predict when the fireworks will be going off, they will most likely start a few minutes before the sun fully sets (8:30 PM). Give your pet an early dinner, playtime, and potty break before it gets too dark.
Post Celebration Cleanup
Check and Double-Check Your Yard!
Many people forget that scraps of food and fireworks debris may be left in the yard post-Fourth of July activities. It comes to no surprise that your pet will be the first one to find these scraps if they are not properly disposed of! Take an extra few minutes to check over your yard before letting your pet out to play, you will be thankful you did!
July 5th and January 1st/2nd
There is a VERY HIGH chance that people will be setting off Fireworks the night before and the night after these Holidays.
Want some more Savvy Secrets? Check them out: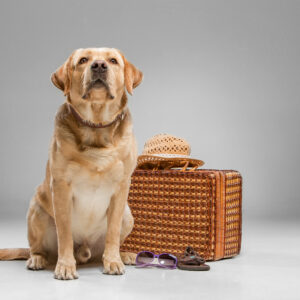 Vacations are a great opportunity to relax and unwind, but for dog owners leaving their…