Keep Your Cat Entertained With These Awesome Toys
Keeping your kitty (especially young, energetic kittens) entertained can be hard, but is an essential part of keeping your cat healthy. Looking for new toys for your kitty can be tough, especially with so many choices available to you. However, we've taken the hard work and searching out finding the purrfect cat toy for your cat. Whether you're looking for the best cat toy for cats home alone or the best cat interactive cat toy, we have you covered. We've searched high and low to find the best cat toys of 2021. We've got a list of the best toys for bored cats that will keep your puss entertained for hours. Check them out below! Your cat will love you for it!
Easyology Amazing Roller Cat Toy
If you need a toy that will keep your cat busy while you are unavailable for a play session, this will do the trick. This is one of the best toys for cats home alone, so you can be sure your kitty is entertained while you're away.
Affordable and fun, this tower-shaped toy has three levels. Each level has its own ball, and each ball rolls around its own level.
Your cat will have a blast chasing the balls around and around. The best part is, the balls don't make much noise, so it won't drive you crazy.
SmartyKat Hot Pursuit Cat Toy Concealed Motion Toy
One of the best toys for active cats, this circular toy conceals a movable cat wand that's attached to ribbons and a plush toy. The ribbons and plush toy stick out of the circle and look like prey to your cat. When turned on, the wand moves around, making it appear as though your cat's prey is running under the fabric.
Your cat will jump into action and start chasing the ribbons and plush toy, making it a great toy for cats who need exercise and entertainment. This will give your feline some much-needed physical and mental exercise while gratifying your cat's natural hunting instincts.
There are two different speeds to choose from, and the wand moves in sporadic patterns to keep your cat guessing.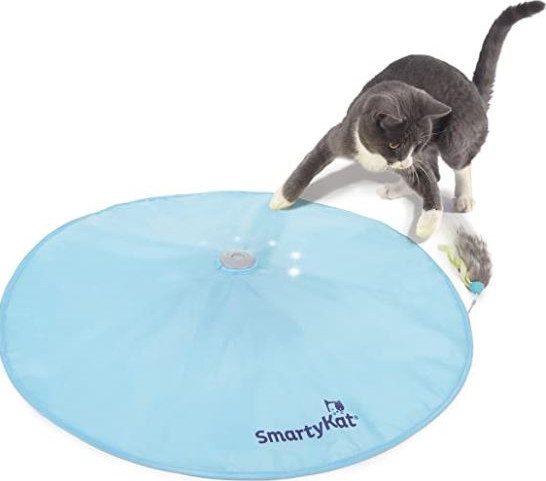 Snuggly Cat Ripple Rug
This product is perfect if your cat likes to play with your rug. And when we say play with your rug, we mean viciously attack it with bites, scratches, and kicks.
Don't let your kitty beat up your favorite rug. Instead, give your cat his or her own piece of carpet. This product is made of durable carpet fibers. It's also hypoallergenic, mold-resistant, and stain-resistant.
It's comprised of two pieces. One piece has holes and the other doesn't. The square without the holes is the bottom piece, and the square with the holes is the top layer.
The underside of the top piece has touchpoints in various places. These touchpoints allow you to attach it to the bottom layer. Feel free to get creative and make diverse shapes by attaching the top to the bottom in different places each time you set up this toy.
Your cat won't be able to resist attacking this mat and will love peeking through the holes and crawling between the two layers.
And don't be surprised if your kitty takes a snooze on top of the carpet after playing with it. This is a multi-purpose mat!
When your cat is all done with the mat for the day, you can easily fold it up and put it out of sight.
SmartyKat Hideout Collapsible Tunnel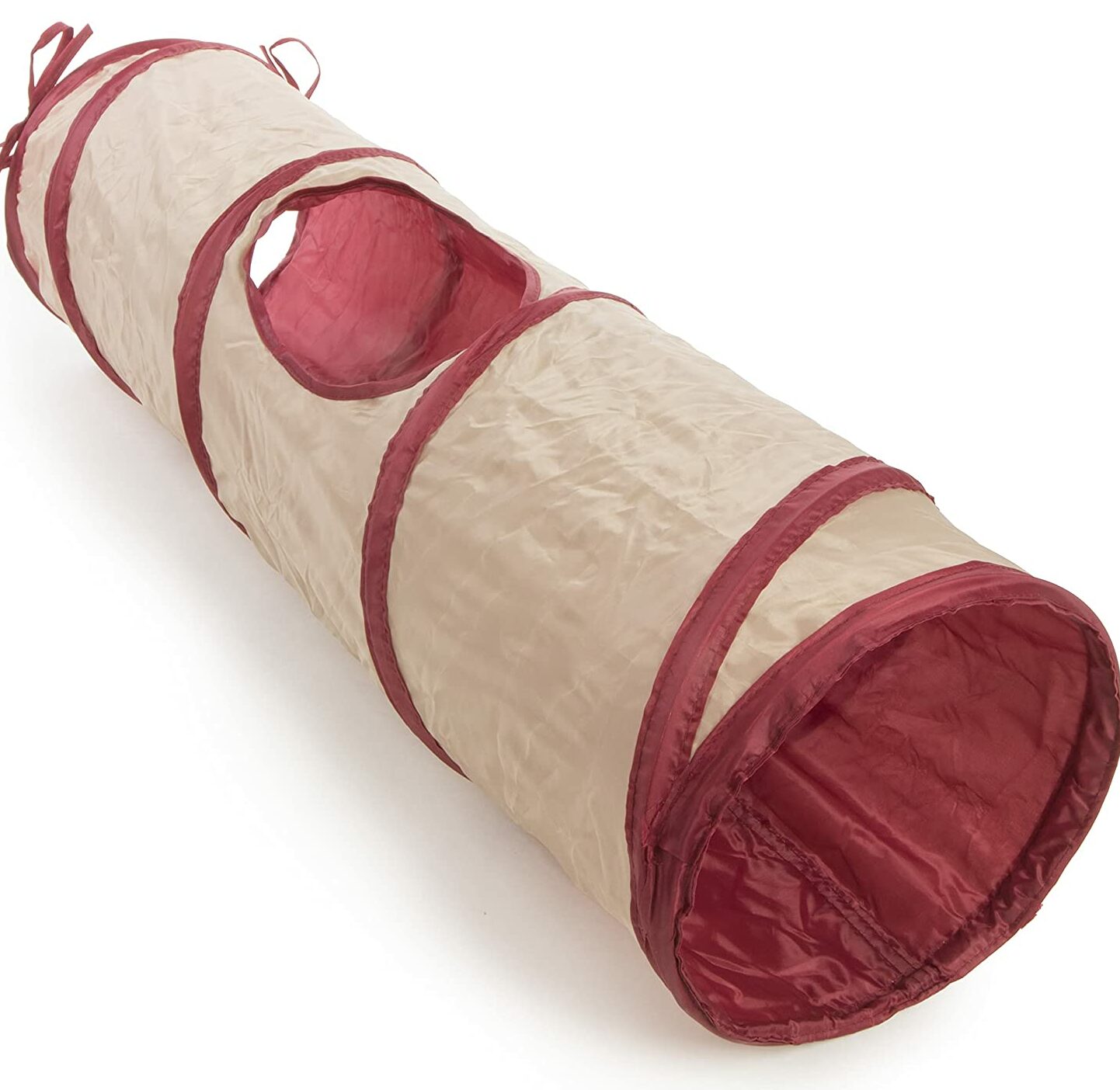 In the wild, cats sneak up on their prey.  They try to remain out of sight until they are close enough to strike. That's why most house cats love a good tunnel.
This tunnel from SmartyKat gives your kitty the feeling of being on the hunt and will keep it busy and happy. It's made of crackly material, adding even more excitement for your cat. And the hole at the top allows your cat to jump in and out of the tunnel.
The price tag on this product is great for the quality you get and the joy it will give to your beloved feline.
SmartCat Peek and Play Toy Box
This interactive cat toy should keep your cat busy for a while. It's a wooden, felt-covered box with holes on its sides and top. It doesn't sound that exciting until you place your cat's favorite toys and treats inside the box. Then, your feline has to work to get them out.
Your cat will have a great time attempting to reclaim the toys and treats you've placed in the box. Not only is this a fun game, but it also provides a mental workout.
The box comes with three balls, but you can also use the toys you already have on hand.
GoCat Cat Catcher Teaser Wand
This last toy is definitely not for unsupervised use, but it's a great choice when you want to spend some interactive time playing with your kitty. After all, you don't want your cat to have all the fun without you, right?
This cat wand is a favorite on Amazon. It's got tons of great reviews. It's made of a long, 12-inch wire that allows your cat to really move around while chasing the mouse on the other end.
No matter which toy you choose, your cat is certain to have fun. So, go ahead and treat your fur baby to one of the products listed above.