As pet owners, we always strive to provide the best care for our furry companions. In recent years, essential oils have gained popularity as a holistic approach to improving the well-being of our pets. While essential oils can offer several benefits for dogs, it's essential for pet owners to do their research and use them responsibly, especially when it comes to cats and other pets. In this blog post, we'll explore the potential benefits of essential oils for dogs and emphasize the importance of informed and cautious usage, taking into consideration the potential harm they can cause to cats and other animals.
Understanding Essential Oils
Essential oils are concentrated extracts derived from various plants, flowers, and herbs. They are renowned for their therapeutic properties and have been used for centuries in human healthcare and wellness practices. Recently, pet owners have started to explore the potential benefits of essential oils for their canine companions.
Benefits of Essential Oils for Dogs
1. Stress and Anxiety Relief: Just like humans, dogs can experience stress and anxiety. Essential oils like lavender and chamomile are known for their calming properties and can help alleviate anxiety in dogs. Whether it's a thunderstorm, fireworks, or separation anxiety, diffusing or applying these oils in a diluted form can provide comfort to your pet.
2. Natural Flea and Tick Repellent: Some essential oils, such as cedarwood and eucalyptus, can act as natural repellents against fleas and ticks. By mixing a few drops of these oils with a carrier oil like coconut oil, you can create a safe and effective DIY flea and tick repellent for your dog.
3. Pain Management: Dogs suffering from arthritis or joint pain may benefit from essential oils like frankincense and ginger. These oils possess anti-inflammatory properties and can be diluted and applied topically to provide relief.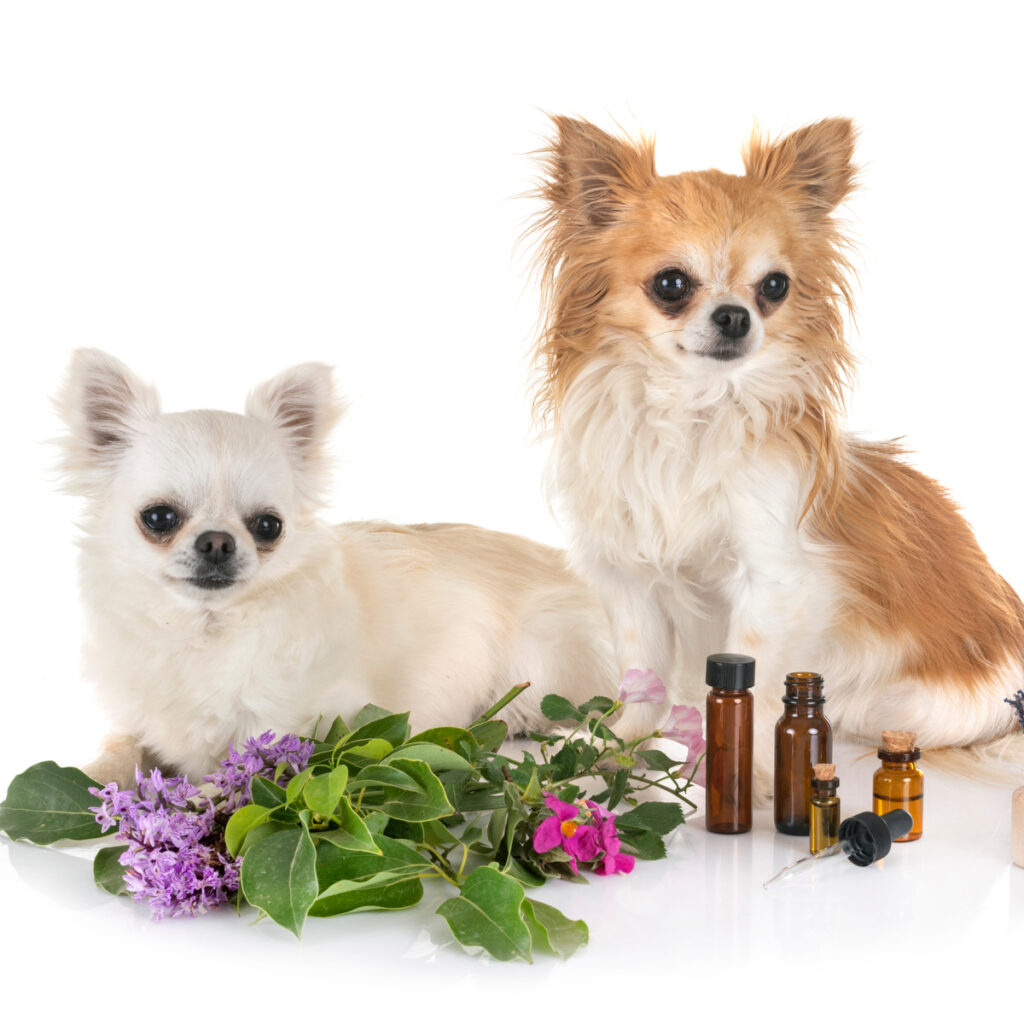 4. Skin and Coat Health: Certain essential oils, such as lavender and chamomile, can promote healthy skin and a glossy coat. They can help soothe irritations, alleviate itching, and keep your dog's skin moisturized.
5. Improved Digestion: Peppermint and ginger essential oils can be used to aid digestion in dogs. When used appropriately and in moderation, these oils may help alleviate symptoms of indigestion or nausea.
The Importance of Research and Caution
While essential oils can offer numerous benefits for dogs, it's crucial for pet owners to conduct thorough research and exercise caution when using them, especially if they have other pets like cats or small mammals in the household. Here are some important considerations:
Toxicity to Other Pets: Many essential oils that are safe for dogs can be toxic to cats and other small animals. Oils like tea tree, citrus, cinnamon, and eucalyptus can be harmful or even fatal if ingested or inhaled by cats and some other pets.
Isolation: When using essential oils around dogs, ensure that they are kept away from areas accessible to cats or other sensitive pets. Use diffusers and oils sparingly, if at all, in spaces shared by multiple types of animals.
Consult with a Veterinarian: Before incorporating essential oils into your dog's care routine, consult with a veterinarian who can provide guidance based on your dog's specific health needs and the safety of other pets in your home.
Conclusion
Incorporating essential oils into your dog's wellness routine can offer numerous benefits, but it should be done with diligence and care, especially if you have other pets in the household. Each pet is unique, and what works for one may not work, or may even be harmful, for another. Always prioritize your pets' safety and well-being by conducting thorough research, consulting with a veterinarian, and using essential oils responsibly. When used correctly and with consideration for all the animals in your home, essential oils can be a valuable addition to your dog's holistic healthcare regimen, enhancing their overall quality of life while keeping your other pets safe.
In the quest to ensure the well-being of our beloved pets, reliable information is paramount. A great professional resource for understanding essential oils and their application in pet care is Essential Oil Vet – Janet Roark, DVM. Dr. Janet Roark is a veterinarian with expertise in essential oils and their safe usage for animals. She is a trusted authority in the field and has dedicated her career to helping pet owners make informed decisions regarding essential oil use.
You can find Dr. Janet Roark on Facebook https://www.facebook.com/EODVM or visit her website, https://essentialoilvet.com/, where she provides valuable insights, guidance, and educational resources on the subject. Her extensive knowledge and experience make her a valuable reference for pet owners looking to explore the world of essential oils while ensuring the safety and well-being of their furry friends.
By referring to professionals like Dr. Roark, pet owners can access expert advice and ensure that they are using essential oils in a manner that is both beneficial and safe for their pets. Remember, knowledge and informed decision-making are the keys to enhancing the quality of life for our pets while minimizing risks.
You can register for a Free Safety Webinar here: https://go.essentialoilvet.com/safetywebinar.
In this article, we are going to share some essential oils that are considered pet-safe. However, you still need to follow the safety guidelines listed below:
Seek advice from your pet's veterinarian and a Certified Animal Aromatherapist.
Never allow your pet to consume essential oils.
Be careful if applying the oils topically. You will need a carrier oil. Do your research to determine which carrier oil to use and how much to dilute the essential oil.
Just because a certain plant is considered safe for pets doesn't mean your furball can handle it. Watch closely for signs of a negative reaction whenever introducing a new oil.