---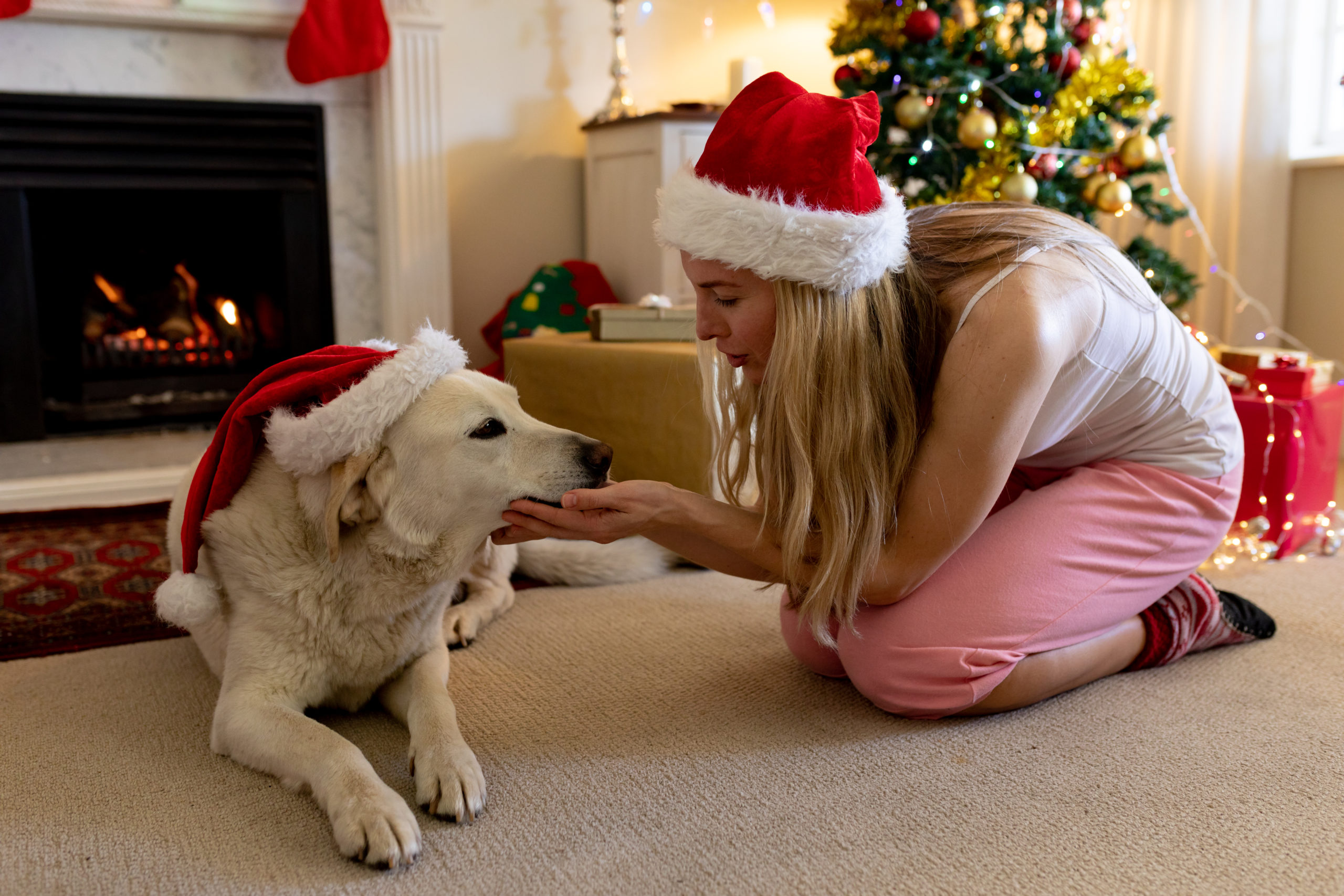 Pet Safety During
Christmas Season
Christmas is a joyous occasion, but if you aren't careful the foods and
decorations of the holiday season can be dangerous for your pet.
Learn how to prevent disaster by reading this article.
Getting Prepared
Before doing anything else, get prepared for the worst-case scenario by finding and storing the phone number and address of your emergency clinic. If your pet gets into trouble you will need to take an immediate trip to the emergency veterinarian. Know their Locations:
Winter Garden/Windermere
Veterinary Emergency Clinic of Central Florida, LLC
16369 W Colonial Dr, Oakland, FL 34787
(407) 644-4449
Windermere
24/7 Animal Hospital of Orlando
8742 White Rd, Orlando, FL 32818
(407) 298-3807
South Orlando
Veterinary Emergency Clinic of Central Florida
2080 Principal Row, Orlando, FL 32837
(407) 644-4449
Eating Christmas Foods
What is Christmas without yummy treats? Go ahead and enjoy them, but remember that most holiday foods are not safe for animals. Many of these foods are found in our favorite Christmas dishes. So please don't give your pet any leftovers. You can learn more from our Thanksgiving post: These Thanksgiving Foods are Dangerous for Pets.

Avoiding Christmas Tree Hazards
If decorating a tree is one of your traditions, you must keep your pet's safety in mind. It's best if you can erect a barrier that will block your pet's access to the tree, but if this isn't possible there are other precautions you can take.
Cleaning Up Pine Needles
Although pine needles aren't poisonous to pets, Wag! says they might irritate your animal's mouth and GI tract, leading to vomiting and diarrhea. But even worse, the needles may puncture or obstruct your pet's internal organs. Such cases can be fatal. Prevent disaster by regularly cleaning up any pine needles that fall on the ground and keeping a close eye on your pet.
Securing the Tree
Make sure your tree is secured your and the tree stand stable, so it won't fall over and land on your pet.
Watering the Tree
Your tree needs water, but don't put any additives in it. If your dog or cat takes a drink from your tree's water these additives could be harmful to your pet.
Decorating the Tree
Keep the following points in mind when decorating your tree:
Avoid hanging any ornaments that could easily fall off and break because the broken pieces could injury your pet.
If you have a kitten, you probably shouldn't decorate the tree with tinsel. Cats are often attracted to this shiny decoration, which tempts them to play with it. When playing with the tinsel, your pet might swallow some, which could cause an obstruction in the digestive tract.
If you want to string some lights on your tree be sure to keep all wires out of your pet's reach. Otherwise, your furry friend might end up chewing on them.
Additionally twinkling lights may attract your pet's attention and cause more playful behavior.
When your away from home for long periods of time, place your pet in a secure and separate location from the tree.
Decorating with Winter Plants
Although beautiful, many of the plants we admire at Christmas are toxic to animals. These include:
See the ASPCA list to get a complete overview of plants that are dangerous for your pet. Or make it easy on yourself and choose fake plants over real plants.
Remember, if your pet gets into any decorations, plants, or foods that could be dangerous, make an immediate trip to the veterinarian. Any delays could risk your pet's life.
But your Christmas doesn't have to be spoiled by an emergency. As long as you keep safety a priority your pet will be well protected. So, enjoy the holiday season with your fur baby!
Want some more Savvy Secrets? Check them out: